17 May 2021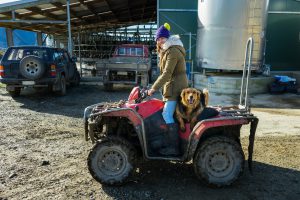 At CMK Chartered Accountants we are always wanting to make you aware of what will help you grow your business. Below is an article form Federated Farmers which will help you support your team.
Apprenticeship brings employers and employees together to grow smart, skilled people to support successful farm businesses so that we can be a sustainable, world leading agriculture sector.
Apprentices will earn while they learn, develop their skills on the job and grow their careers.
Employers will enjoy motivated staff, who can improve business productivity and help drive growth.
Why take on an apprentice?
Having your staff enrol in an apprenticeship will support farm businesses to operate successfully allowing you more time to do the things you want to do.
It is an opportunity for employers to reward hard working staff, nurturing them and growing them into successful people who are helping your business thrive.
Primary ITO apprentices have a track record of building successful careers, supporting their employer's business to grow and prosper.
The apprenticeship programme is a three-way relationship – between you as the employer, the employee, and your local Primary ITO Training Advisor. Support is wrapped around the apprentice to help them achieve their goals.
Your local Training Advisor will visit you to ensure the training programme selected meets your business needs.
Once this is complete, they will explain the training process to you and your employee.
Your Training Advisor will then visit you at least four times a year to:
• Review progress and update a personalised training plan.
• Set goals with you and your employee to help them achieve their qualification.
Along with your Primary ITO Training Advisor, you will be the main support for your employee during their apprenticeship.
We are here to support you and your apprentice throughout the duration of the apprenticeship, and you can contact us at any time with questions.
By taking on an apprentice you may be able to take advantage of the Government's "Apprenticeship Boost", which will pay up to a total of $16,000 across the first two years of an apprenticeship. The money will be paid directly to employers by the Ministry of Social Development. For first year apprentices, this is worth $1,000 a month, and for the second year it is $500 a month. Register your interest to learn more.
Why become a farm apprentice?
An apprenticeship helps give you the skills and qualifications you need to successfully progress through the industry. An apprenticeship adds extra support at a point in your career when you may need it the most.
As an apprentice you will attend workshops with others on the same path as you, working towards NZQA recognised qualifications.
Apprenticeships are for anyone over the age of 16 ready to take on training in the agriculture sector.
If you are working in the agriculture industry, register your interest and we will be in touch.
If you're not working in the agriculture industry, you can also register your interest and one of our team can talk you through the options of getting started in the industry.
If you need to know more, please click on the link below or give us a call.
https://farmapprentice.nz/home
CMK Accountants, Stratford, Hawera & New Plymouth (06) 765 678 cmk@cmk.co.nz