23 March, 2021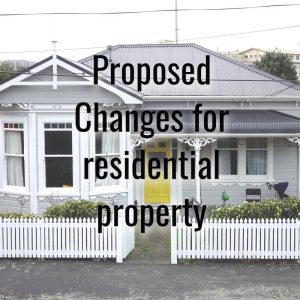 As you may have heard on the news this morning, The Minister of Finance, Hon Grant Robertson, has announced proposed changes for residential property acquired on or after 27 March 2021. CMK Chartered Accountants would like to highlight the changes made. It is yet to be seen whether these changes will actually make any difference in the property market. Private landlords will surely only look to pass on any additional costs to their tenants.
The proposed changes include:
• extending the bright-line test to 10 years
• amending the main home exclusion which would require tax to be paid on gains made for periods the property is not used as the owner's main home
• allowing newly built homes to use a 5 year bright-line test
• not allowing property owners to claim interest on loans used for residential properties as an expense against their income from those properties. There would be an exemption for newly built homes.
From 1 October 2021, interest deductions on residential investment property acquired on or after 27 March 2021 will not be allowed. Interest on loans for properties acquired before 27 March 2021 can still be claimed as an expense. However, the amount you can claim will be reduced over the next 4 income years until it is completely phased out, as shown in the table below. This means that in the 2025–26 and later income years, you will not be able to claim any interest expense as deductions against your income.
Property acquired before 27 March 2021
If you acquired a property before 27 March 2021, you can still claim interest (for loans that already existed for that property) as an expense against your residential property income, but this amount will reduce by 25% each income year until the ability to deduct the interest is completely phased-out from the 2025–26 income year. If you have a standard balance date, the proposed change will be phased in as follows:
Income Year
1 April 2020 – 31 March 2021 100% Claim
1 April 2021 – 30 September 2021 100% Claim
1 October 2021 – 31 March 2022 75% Claim
1 April 2022 – 31 March 2023 75% Claim
1 April 2023 – 31 March 2024 50% Claim
1 April 2024 – 31 March 2025 25% Claim
From 1 April 2025 onwards 0% Claim
Over the coming weeks we will be looking at these rules and how they apply directly to our clients, but if you need any information in the meantime please do not hesitate to get in contact with the team.
BACK TO BLOGS